Property Litigation
Start claiming your deposits back today!
If the developer did not deliver your property as promised, you have the right to claim back your moneys.

Let us assist you!
Request Now!
This service is provided primarily to those individuals that have purchased off-plan properties in Spain and there has been (or there is a suspected) breach of contract on the developer's or real estate agent's behalf. Some examples of this type of breach of contract are as follows:
By the developer's failure to deliver the agreed property, within the timeframes originally outlined..

By the developer not actually building the property as planned because the properties were sold without the legally required building licences.

By the developer not building the property in accordance to the terms agreed within the original contract. This can be such scenarios as a sea view being promised and not delivered, to such dramatic changes as completely altering the building plans.

You can claim your deposits even if they say there is no money. Developers have ASSETS!
What does the property litigation service include?
Evaluation of contractual documents

Investigation and/or confirmation of breach of contract

Seeking out and obtaining refunds on principle investment as well as interest accrued and the possibility of seeking additional damages

In many instances, these matters can be settled outside of court

Before you Start
You will need to provide the following:
Contracts and/or agreements from both parties

Any supporting correspondence with the developer / estate agent

Previous Experience
Our firm is representing a large number of purchasers in court cases against developers such as Aifos, Peñaroya, Palmera Properties and many others. Our clients bought in developments such as La Reserva de Marbella, Hacienda Marina, Hacienda Casares, Los Lagos de Santa Maria Golf, etc. After many broken promises they decided to hire our services to claim back their deposits.
We are probably one of the most experienced law firms in litigating against property developers!
Lawbird in the Media
All of our Lawyers are reputable and experienced, and have been interviewed for several media, including TV shows in the UK. They also appear regularly on Spanish newspapers as a result of winning important cases.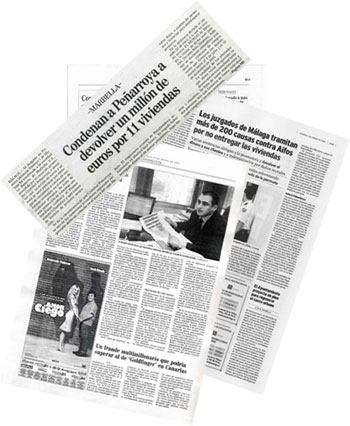 Find out More about Lawbird
Testimonials
Hi Roberto. We have received confirmation that the euros have been received in the UK this afternoon. May we take this opportunity of thanking both you and Antonio for your very best attention to our problem. You have handled the situation with first class professionalism and we are very grateful. Everything moved so smoothly and with much less hassle than we had anticipated at the start of the year. Thanks again and may we take the opportunity to wish you both every success in the future.

N. & J. Whitcombe
October 18, 2011

---
We got our Deposit and Compensation from Aifos!
We must emphasise this has been achieved by the professional help from Lawbird, mainly through our relationship with your solicitor Luis Fernando Gonzalez Ordoñez. He helped us through the court procedures, and also when I had to attend the court. He was always available for us to see him when in Spain, and was also reachable on the phone from England every time we needed to speak to him. He kept us up to date by email to tell us how the case was progressing. Thank you Lawbird!

Geoff & Pam Pearce
April 15, 2009

---