Darragh MacAnthony subject of fraud claim in Madrid
Conviction could force chairman out of football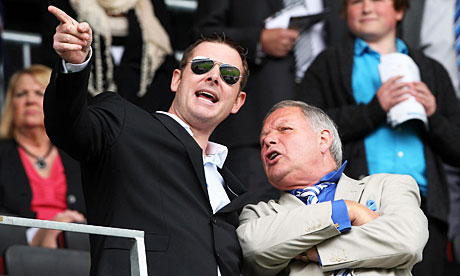 The Peterborough United chairman, Darragh MacAnthony, left, with the club's director of football, Barry Fry. Photograph: Chris Radburn/PA Wire/Press Association Images
Peterborough United's chairman, Darragh MacAnthony, is the subject of a €600,000 (£535,000) fraud claim in a Madrid court. The case relates to allegations that MacAnthony withheld funds paid to his firm, MacAnthony Realty International, for buying furniture without delivering the goods.
"I have never broken the law, committed fraud or any crime, nor have I ever been spoken to by the SFO [Serious Fraud Office] or arrested," MacAnthony wrote on his blog in response to the claim. MacAnthony said Antonio Flores, the English-trained Spanish lawyer who is representing the class action of 51 claimants against the Posh owner, is an "ambulance chaser".
Flores said: "He'll try and discredit anyone who stands against him. MacAnthony is a master manipulator. It's quite simple: if he pays the outstanding sum we'll settle."
MacAnthony said that in the event of a successful claim against him, Flores has raised the prospect of "go[ing] after assets I have such as Peterborough United".
Perhaps a more important outcome of a conviction against MacAnthony would be his disqualification from holding a boardroom position or from owning Peterborough under the Football League's owners and directors test.
The club that Darren Ferguson steered back into the Championship through the play-offs last season would suffer serious financial difficulties upon the departure of its benefactor. According to its most recent accounts, Peterborough's net debts stand at almost £9m.