Tag Archives:
Roberto Leiro
Download
2018-Sur-Empresas-Numero-1-Entrevista_a_Lawbird (PDF ~ 1 Mb)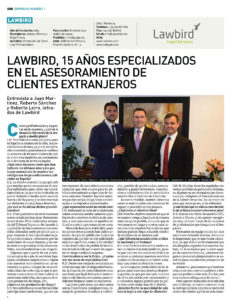 El Supremo confirma una sentencia de la Audiencia Provincial de Málaga que estimó el recurso de una compradora de una residencia en Marbella
El Tribunal Supremo ha dictado una sentencia en la que determina que la falta de licencia de primera ocupación es causa de resolución del contrato de compraventa de una vivienda porque supone el incumplimiento de la entrega del inmueble cuando el permiso no va a concederse en un plazo razonable.
El alto tribunal ha confirmado una sentencia dictada por la Audiencia Provincial de Málaga en diciembre de 2009 en la que estimó el recurso presentado por la compradora de una vivienda en Marbella, a la que previamente el Juzgado de Primera Instancia número 3 de la localidad había condenado a cumplir el contrato en los términos acordados.
La Audiencia malagueña declaró resuelto el contrato suscrito en febrero del 2004 entre una mujer de nacionalidad irlandesa y la promotora del conjunto residencial en Marbella, decisión contra la que la empresa presentó un recurso de casación.
Para corroborar el acierto de la sentencia recurrida por la promotora, el Supremo argumenta que ésta no ha acreditado que la falta de licencia de primera ocupación obedezca a una simple demora y que no existan obstáculos para su obtención, según la resolución a la que ha tenido acceso Efe.
Por ello, entiende que la parte compradora no puede ser obligada a escriturar y cumplir con su parte del contrato "cuando subsiste la incertidumbre de si la promotora va a poder cumplir en un plazo razonable, siquiera tardíamente, con su obligación de entregar la referida licencia de primera ocupación".
Además, explica que el cumplimiento de la obligación de entrega por el promotor no puede entenderse limitado a que la vivienda lo sea "en un sentido puramente físico", sino que debe comprender también su aspecto jurídico, y permitir que los suministros se contraten de forma regular y que el comprador pueda ejercer su derecho a alquilar o vender el inmueble.
Deber incumplido
Desde el punto de vista de protección de los consumidores, el Supremo concluye que el deber de información del promotor-vendedor no puede considerarse cumplido por la puesta a disposición de la documentación relativa a la vivienda, ya que debía informar a la compradora de que la edificación no se correspondía con la calificación urbanística del suelo.
En este sentido, señala que la seguridad de la propiedad inmobiliaria es uno de los factores característicos de los sistemas jurídicos avanzados y tiene "más importancia, si cabe cuando los compradores son extranjeros", con menos facilidad para conocer toda la legislación española que pueda afectarles al comprar una vivienda en España.
En cuanto a la documentación presentada por la promotora para demorar la sentencia, el Supremo precisa que la licencia de primera ocupación para el conjunto residencial, de 192 viviendas, se obtuvo en junio del 2012, cuando el plazo límite pactado era octubre del 2005.
Y añade que la licencia "ni siquiera es completa", ya que excluye las piscinas comunitarias, uno de los elementos incluidos en el contrato, que quedaron fuera a expensas de la obtención de informe favorable de la Consejería de Salud de la Junta de Andalucía.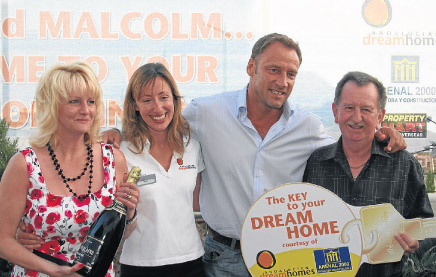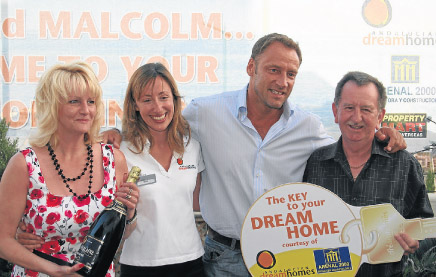 A Malaga court ruled that Arenal 2000 must give Suzan and Malcolm Windle, 68, a free home.
The case dates back to 2006 when the couple were 'over the moon' to be told they had won a 'buy-one-get-one-free' competition for a new apartment worth €250,000 in Benalmadena.
The couple from Yorkshire entered the competition with agent Andalucia Dream Homes when they bought their current home in Isla Redonda, near Sevilla.
But the dream soon turned into a nightmare.
"It is like being told you have won the lottery and then you haven't," explained Suzan, 54, whose picture was even used by the company for marketing their win on billboards along the N340.
"We were over the moon when we won; and planned to rent it and use it as a holiday home," she told the Olive Press.
"But it has dragged on for six years and we never got a house."
During this time the two companies involved, Andalucia Dream Homes, which is now in liquidation, and Arenal 2000, owned by disgraced  businessman Rafael Gomez Sandokan, both blamed each other.
"It has been six years of hell and stress as we have been passed from pillar to post," added Suzan, who praised the work of her lawyer Roberto Leiro from Lawbird.
"It is finally excellent news. As Arenal no longer owns the apartment we are either going to get another apartment or financial compensation.
"We are just keeping our fingers crossed it is coming to an end."